The LCDR Jay T. Alkire, USNR

And the
Charles Henry Faulkner, BM1, USN - 1954 to 1955
Memorial Gallery
(If you have a good photo of LCDR J. Alkire, please Notify the Yeoman)


Hello Shipmates,

I'm Richard Kirsch, Middle Years Gallery Administrator.

While it is Extremely important to Remember all those who lost their lives aboard our Ship, this Event is especially poignant, in that it depicts the Dangers involved in Air Operations aboard any Aircraft Carrier, and records the loss in very graphic details of one of our Squadron's pilots, LCDR Jay Alkire, USNR.

Recently the Hancock Memorial received a donation of a series of poignant photographs taken by a Photographers Mate aboard the Hancock (circa 1954 to 1955), who captured a very nasty crash of an approaching F7U-3 Cutlass on Hancock's Approach ramp. This crash took place on July 14, 1955. The date has recently been ascertained by Grant Alkire, LCDR Jay Alkire's grand-son.

Our benefactor, the late Charles H. Faulkner, BM1, USN is no longer with us (See Taps Entry), but his daughter wished to share these photos with us. Her father was given these images by his shipmate and buddy, a Photographers Mate, who captured this horriffic event on film.
Charles H. Faulkner
Born July 8, 1924, in East St. Louis, Illinois. He joined the navy when he was just 17. He served proudly for 21 years on many different ships, in many different ports. He served on the U.S.S. HANCOCK from 1954 to 1955 (dates not exact). He apparently acted as a Master-at-Arms at various times during his career.

He passed away on August 18, 1974 in Long Beach, California.

Submitted by his daughter, Debi Faulkner-Ouellette of Bristol, CT - 29 Jun 2003
queen.bee.1955-hotmail.com

Unfortunately, the name of the Photographers Mate is now lost to us, but the daughter of Petty Officer Charles Faulkner, having discovered the photographs, wished to donate them to our Middle Years Gallery, and by this generous act, desired to keep her father's memory alive; she also wished to bring to mind the name of the pilot of that fateful Cutlass, so that he might be remembered by his crew, who perhaps remember him. If you know the name of our Benefactor, the Photographers Mate, who donated these images, please sound off!

Jake: Recently a shipmate of Richard Kirsch, PH3, USNR (Ret) Maurice Duke wrote the Yeoman and left him some inkling of who the Picture Taker was.. Here are his words:

"Jake--I strongly believe that the crash series of LCDR Alkire's Cutlass was shot by Ph2 James Binkley. His flight ops station was the 07 level with a K20 camera. I think he was on station that day, if I remember correctly. - Duke"

Update - 8-18-10: "Jake, I found James Binkley and he told me the man was Jack Hansen, PH2 who took the still sequence you are depicting on LCDR Alkire's Memorial Page. I am now sure of this. - Duke"

Maurice Duke <jmduke+vcu.org>

On November 14, 2010, the Yeoman received an Email from James Binkley's daughter, Diane Binkley Fellers the following:

My name is Diane Fellers. My father is Jim Binkley. This is what he
has verified. 11/15/2010

Pictures of the crash were taken by:

Stills from 07 level were taken by Jim Binkley

Pictures from the Deck Catwalk were:
Movies - Jerry white
Stills - Jack Hansen

If you need any more information, I can put you in touch with my dad.

Thank you,

Diane

This should put to bed the question on who took the Sequence photos below. Thank you, Diane Feller!
If you wish to contact Mrs. Diane Fellers, please send the Yeoman Email Here.

---

So we still are getting more input for this Memorial Page. Read more below for more additions.

It is the purpose of this Website and Gallery, to bring to mind the courage and love of God and Country, that all those who go down to the sea in ships share so nobely.


In Memory of LCDR J. Alkire, USNR
Click Memorial for the Post Re-commissioning Casualty List
Charles Faulkner's daughter, Ms. Debi Faulkner-Ouellette, asked me if I knew of the Pilot's fate. I was not aboard at the time, since I was separated just a few weeks previously to the crash, but I had heard subsequently from shipmates who remained on ship, that LCDR Alkire did not survive this terrible crash. I had hoped for all these years that the report was erroneous, and is why we (Jake and myself) decided to post this Message and place this Gallery here, in hopes that someone who knew LCDR Alkire, would come forward and let us know the details, to help us clear the record.

Unfortunately, Cruise Books don't always list casualties, and it is very difficult at best, to get the data needed to report facts as they exist. We hope that we are not reporting history in error. If you know that we have, please let us know about it, so we can report truth. That is what this website is all about: TRUTH.

If you know the Details of this Crash, or knew LCDR Alkire, please contact us ASAP.

The following pictures are shown in the sequence of the crash. To see a larger view of the thumbnail picture, click on it.

Post Script: LCDR Alkire's name is included on the Hancock Casualties Plaque aboard the USS Yorktown, Hancock Memorial. That should close the book on this casualty.
This Sequence of Stills was taken by James Binkley, PH2, and not extracted from movie film as prevously thought.
Photographers Mate J.M. "Duke" Duke did some sleuthing and found a shipmate who remembered the name of Jake Hansen.
Duke has his own gallery located in my Public Galleries. Go Here.

| | | | | | | |
| --- | --- | --- | --- | --- | --- | --- |
| | | | | | | |
| | | | | | | |
No one can ever know what thoughts flooding the minds of those involved in this Horriffic Crash better than
those
who lived it !
1955 ramp strike aboard USS Hancock. F7U pilot LCDR Jay Alkire of VF-124 lost his life in this crash. He was stunned and badly injured from the impact, when the aircraft fell off the port side of the USS Hancock and rapidly sank with Alkire still strapped in his ejection seat. Along with Alkire, two aviation boatswain's mates and one of the photographer's mates recording the accident was also killed by burning jet fuel in the deckside walkway. We hope "Paddles" escaped. You can see him running out of the path of the Cutlass in the three-photo series beginning at the upper right. If you watch the video below you'll probably learn the answer.

Watch the entire Recovery Squence of this Sqadron and the Crash of LCDR Jay T. Alkire....
---

J.M. "Duke" Duke sent me these photos of the Cutlass in remembrance of LCDR J.T. Alkire's loss. Now this plane is not ALKIRE's #412, but does give a person a good example of the configuration of the Cutlass, showing that it was truly not suited for carrier operations, with the very long telescoping nose gear, and the attitude of the plane. The Cutlass had to achieve an airspeed of over 400 mph to affect level flight; and when in a landing pattern, it needed to slow down to near stall speed to catch the wire.

In such a stall, it lost power to achieve a safe wave-off or 'bolter' and is very unstable, and in the case of LCDR Alkire's crash, he quickly lost control of the plane, sending him into oblivion.
A good side-view of an F7U Cutlass on the Deck of HANCOCK
F7U Cutlass being started by a Huffer Unit, in readiness for a launch on Starboard Catapult
This photo was taken of the Port Gun Tub which was obliterated by LCDR Alkire's crash. This was a very sad day for these sailors. - Rich
To show the precariousness of those who work in the catwalks, note here our Photographer at his station in the lower right of the photo visible just above the baracade. When there, our man needs to be on his toes constantly! You can see how this near-crash of an S2F Tracker could very well have taken him out!
Recently (4/7/07), the Yeoman received an Email from Bob, a past member of VF-31 who supplied this Memorial with some valueable update information on the Crash of the F7U Cutlass, piloted by LCDR J. Alkire, USN. I am placing these threaded comments from a Message board here for those who wish to follow-up on the incident in 1955:

From Bob in an Email to the Yeoman, dated 4/7/07:

Jake, here is some info that may get you more background. A guy keeps many of us VF31 guys in touch, and he found and sent the Hancock/F7U photo sequence last week. Apparently it is making the rounds on the internet. Below are some of the follow-up messages with some info for you.

I flew with VF31 at the end of the 60s. I was trained as a civil pilot starting in the late 50s, and one of my instructors was a F7U test pilot, and he had lots of tales.

I served aboard many Essex class sister ships to the Hancock, and many details of the crash puzzled me based on my experience. Mostly, I wonder at what drove LSO Reilly to dash to the left instead of diving into the net or even the sea. I stood in those catwalks many times, and would have had no hesitation taking to the sea ... in fact planned on it if needed. I was concerned as some of the photos show a lot of guys in the port catwalk where the plane wound up.

For your information, I saw this recently in a email exchange involving a bunch of VF31 F4 and F14 drivers. Here is some additional feedback that seems credible...

Cheers, Bob S____
(name withheld for privacy)

---

Newsgroup Entries...

Bob S____ wrote:

Found the last item on an aviation newsgroup. It sure answers a lot of questions I had raised. I still wonder why the LSO didn't go for the net too. A lot of guys in the catwalks, and I'll bet most weren't really working.

I always wondered if the "Gutless" would have performed better if the J46 had not wound up over 30% down on promised power, but understand there were issues with low speed handling of deltas and similar planforms.


---

Another Thread...


The LSO made it safely. Only the pilot was killed. I was in the squadron, VF124 out of Miramar in July 1955.

Regards, Dick

---

From an Anonymous entry from the newsgroup:

The ole Cutlass was something else and this particular sequence was on the Hancock and the pilot was the XO of VF-124 and went over the side in the cockpit and never survived. The LSO was Ted Reilly and he made it OK. The hook spotter/talker jumped clear over the rail and was picked out of the sea OK, later. The other LSO's leaped into the net and rolled away OK. Seven of the arresting gear people in the catwalk all escaped with minor injuries.

From what info I have the pilot was a former VP driver and as evidenced he got way behind the power curve to say the least .

---

Yeoman's Note: Recently (5-1-07), I received an Email from Gordon Parker stating to me the following regarding the Crash of the F7U Cutlass by Jay Alkire:

Hi There
For what it's worth, I was in a compartment ( V1 divisions coffee mess ) at the time of this crash. I possess a 1955/56 cruise book. This book contains the names and photo's of the Hancock's photographers.

I remember the crash of this F7U as if it happened yesterday. I'd never seen any photos nor video of the crash until one day a couple of weeks ago I saw the...

I did some searching on line and found your e-mail info. Thanks to everyone who contributed to this effort. If I can be any help I'm at your service.

Cheers, Gordon Parker

Gordon Parker followed up with another photo establishing him as being aboard during this tragic time with a photo of himself standing afront of the very plane that LCDR Jay Alkire flew and crashed into the round-down that fateful day...
Awareded the "Special Recognition and Achievement Award" for his contribution
Yeoman's Addendum: I was glad finally that Gordon Parker came forward to give some information on the Crash of LCDR Jay Alkire in his F7U Cutlass. I had desired to learn more of this tragedy to post here, so that we may remember this Naval Hero and gratefully, this has been accomplished, thanks in part, to Gordon Parker, Debi Faulker-Ouellette, daughter of Charles Faulkner; the man whose shipmate in OP Division gave him the photos in this, our Faulkner/LCDR Jay Alkire Memorial. We can't forget our gratitude to PH3, Richard A. Kirsch, our Middle years Coordinator in Admin.

Also thanks go out to Bob S___ who furnished us the input from various Message Boards that he uses (input above) for his clarification on the Crash.

The Yeoman retains Email addresses for those mentioned here in case you wish to write any of them.

Gordon Parker also wanted to share a page out of his '55 Cruise Book that highlighted the men of Operation's OP Division Photo Crew... I'm happy to present it here for your viewing pleasure. You may know some of these men... over 52 years have come and gone since they sat for this photo, but memories are as vivid today with these guys as if it just happened... such was the Life aboard the U.S.S. Hancock CVA-19, in all Era's...
Members of OP Division - men who often put their lives on the line to capture moments in time with their cameras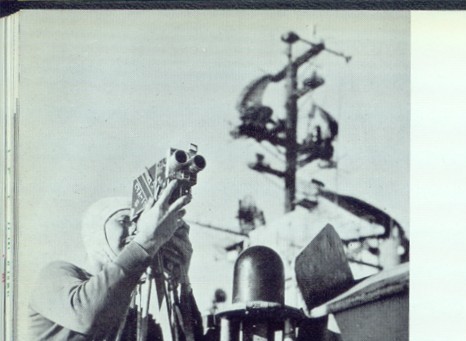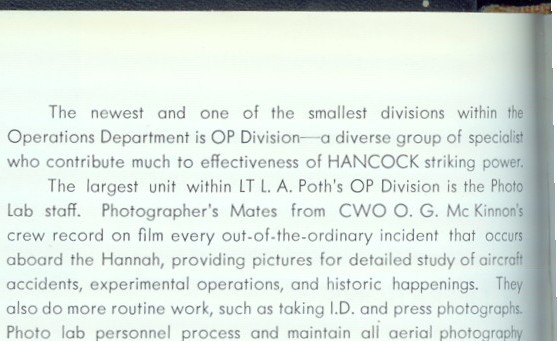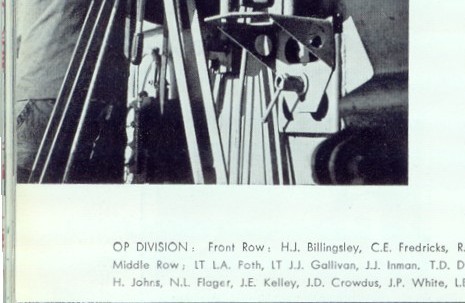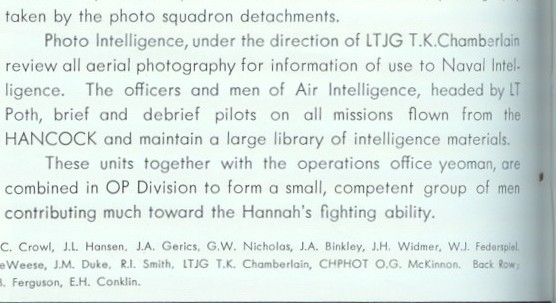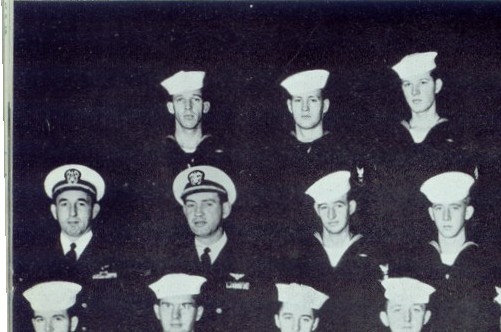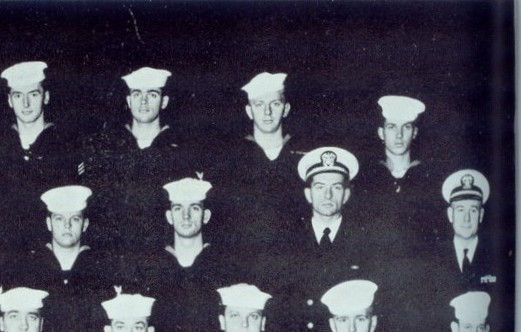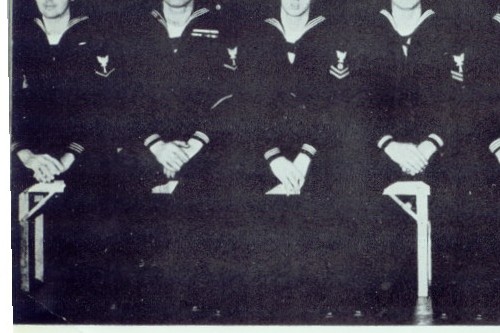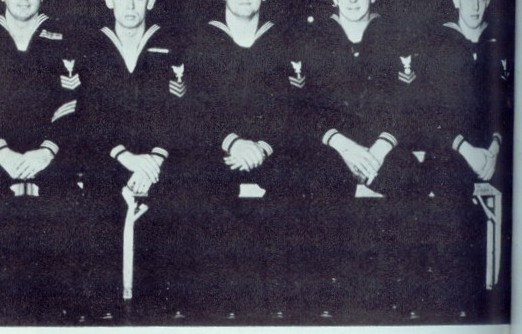 The Above Fragmented Photo is downloadable by clicking
here
---

From an Email sent to me on June 10, 2007 from Mike Anselmo who sent comments from his time aboard ship, regarding several photos he saw back in 1962 of the Crash of LCDR Jay Alkire's F7U #412..

"I first saw the photos of this accident as 8x10s in 1963. The were all from the port catwalk. I took a picture of them with a range finder camera. I still have the slides, although I haven't seen them in many years.

As I remember, as the aircraft hit the round down, it popped up onto the deck aiming directly at the camera. I think there were 2 more shots from that position showing the LSO running to the left with the aircraft flat on the deck. You can see the aircraft in that position on the shot from vulture's row. Do you have those other shots?"

Thanks,

Mike Anselmo

My answer to Mike was 'No' - I don't have any other photos other than what you see on this page.

---

From Roy Lucas...

Thanks for the tips. We lost 5 of 16 pilots, just from our squadrom, VF-124. We later became VA-126, keeping the Cutlass. We had Pete Austria, a PN3 at the time, who took me under his wing. We went on liberty together. He was from LA, but I can't track him down.

I saw most of the carnage. Once we were close to China, when one of our pilots, possibly Ltjg George Barrett "Barry" Millard, developed trouble and had to eject. The cord was pulled too soon, and the ejection seat sliced the chute, sending the pilot to his death. We were involved in recovery. Any information you may have on this would be appreciated. Losing the XO, during a turbulant landing was most tramatic; He was a great officer, and treated everyone well.

---

Addendum from the Yeoman: Recently (10-17-08), the Yeoman received an Email from someone doing a Google Search for "Jay T. Alkire" - it so happens that this search was by LCDR Jay T. Alkire's grandson Grant Alkire, sent the message to the Yeoman asking that it be forwarded on to Richard Kirsch, the Admin of this Memorial Gallery. I'd like to include his Email as this is monumental news and Project Remembrance is in "Full Swing" thanks to the Internet and we are happy to report that some closure to the Jay Alkire mystery is finally unfolding...

The Message:

Re: The Faulkner/LCDR Jay T. Alkire Gallery on the Hancock Memorial

Mr. Kirsch-

I am Grant Alkire, grandson of Jay Alkire. I would like to first thank you, and all who have put forth the time and effort to make this site possible. It is wonderful to see people still memorializing our fallen heroes after so many years. I found this site on Google, and was able to share it with my father, Jay Alkire, Jr. If there is anything that I can assist you with concerning this site please let me know as I would be more than happy to contact my father or grandmother with any of your requests. Again, thank you for your efforts and I look forward to hearing from you soon.

Grant Alkire

The Subsequent Return Email sent by Jake to Grant Alkire:

Dear Grant Alkire,

This is wonderful news! I was hoping beyond hope that someone would come forward who knew Jay. I am so delighted!

YES! I do want as much information (and picture(s)) of your grandpa, so that we can make a decent Memorial for him on that page, not just photos of the mishap that caused his demise. I am the Yeoman of the Hancock Memorial (Webmaster), and because of my commitment to putting up as best a Memorial Website to the men and the USS Hancock CV/CVA-19, having all the angles is my aim and desire.

While we do have memorials, I want truthful ones and ones that come with some history of the men who served and gave their lives.

Those who made this sacrifice as as important as everyone else who served in HANCOCK (speaking of our ship only - I fully realize this goes the same for all those who served and gave their lives in any branch of the service). So please do forward any communication we exchange, and please help me to do your grandfather the Honor he most assuredly deserves.

I am copying this to Richard Kirsch who sent the collection of photos to me, and Ms. Debi Faulkner-Ouellette whose father received the photos from a Sailor taking photos in the OP Division on that fateful day.

Please by all means, stay in touch with me, and thanks so much for responding to me about your grandfather, so that we can keep his memory alive.

Again, thanks,
Best Regards,
Jake

Message from Michel Van de Vorst received in the Admin Office on 1-3-09...

Subject = Re: The Faulkner/LCDR Jay T. Alkire Gallery on the Hancock Memorial

Message = Jake, I do not know if you are aware of this.

When I saw the pictures, I immediately recognized these. These pictured were published in 1982 in Steve Ginter's Naval Fighters, series number 6, F7U Cutlass (page 69/70 on VF-124). He never mentioned the pilot's fate nor of anybody else. I assumed he didn't make it, as the canopy is blown off by the nose wheel bouncing back into the cockpit.

These pictures surely make a lasting impression.

Just my two cents.

Michel van de Vorst

Subsequent return Comment by Jake to Michel..

Mike, thanks for this message and giving another perpective on the LCDR Jay T. Alkire accident on the Hancock's flight deck. With your permission, I would like to post your comments on the Memorial Page just below the other comments. On that note, did you take the time to read all that was on that page? You will be interested to know that LCDR Alkire's son wrote and gave a more detailed account. The Page Address is:
www.usshancockcv19.com/gallery7/.

If you change your Email address, Mike, please give me your updated one as I save these in case someone wishes to contact you regarding your entry. Please note that your contact information is kept private; it will not be published to the internet. I also withhold names and other contact information unless you release permission to me to place in the text. this is why I am asking your permission to publish your message. Please respond ASAP.

Best of the New Year to you, Mike!
Jake,
Web Yeoman, USS Hancock CV/CVA-19 Memorial
www.usshancockcv19.com

(Michel can be contacted by requesting his Email from the Yeoman or asking him to pass your comments on to him. Do that here.)

Mail from Larry Wood...

Re: The Faulkner/LCDR Jay T. Alkire Gallery on the Hancock Memorial
Hi,
I was going over the web site and found the page regarding the Cutlass crash. A few years ago I was home, visiting my parents for Christmas and came down with a horrible case of the flu. While too weak to do much else my dad (John C. Wood, electrician on the Hancock) got out the slide projector and showed a bunch of his Navy slides. At one slide he asked if I noticed anything wrong. He was of course referring to the black mark on the deck and the gun tub. He then went on to explain that he and a couple other electricians were in a shop under the deck and heard the impact. They piled out of the shop as burning jet fuel started coming over the side. I don't recall any of them being hurt or anything but it sounded like a pretty close call.

Unfortunetely I don't remember many of the details from that trip so I can't add much more. I have a couple 5 year old boys that are big plane fans so were watching a few youtube videos when we saw the video of the crash. I thought to myself "Boy that looks just like dads slides." Anyway, I applaud you for the memorial page.

Larry Wood

Follow-up Mail from Roy Lucas......

Jake,

Reading Richard Kirsch's article on Cutlasses, both Pete Austria and I served in VF-124, on the '55-'56 cruise. We had the F7U-3 Cutlasses. We would lose 5 of 16 Pilots, on this Cruise. As a Plane Capt., I saw most of the carnage. We deployed to NAS Atsugi, where I served as an AK. Upon return to NAS Mirimar, we became VA-126.

Roy Lucas

---

Note: Anyone who reads this and has more photos or information, your Yeoman encourages you to send them to us. The File attachment Email Link is at the End of the Email Link below.. when you get there click the 3rd Class Chevron to load it. The Regular Email Form does not allow attachments.
| | |
| --- | --- |
| | Email Jake |
Send Gallery Administrators E-Mail
or
Hancock Galleries Launch
---




---

Return To Top